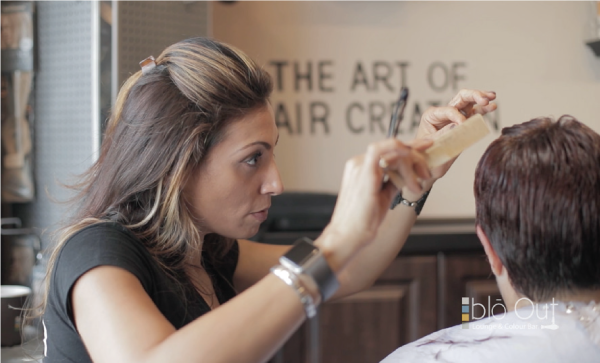 More than a Hair Salon, blo Out Lounge & Colour Bar Serves Guests.
Caterina Young knew from childhood that she wanted to be of service. She never doubted for a moment that she would succeed in her dream and seven years ago, she opened blo Out Lounge and Colour Bar at 3695 Nottingham Way in Hamilton.
Significantly more than a hair salon, Caterina and her talented artisans serve guests from the moment they walk through the door. You don't "check in", you are warmly welcomed by someone who comes to greet you. From then on, it's guidance, education and experience at every level. Her devoted guests include men as well as women because who doesn't want to feel special? Your personal server attends you with complimentary seasonal drinks and snacks. Or guests can relax at the bar before their reservation. The full-service area also has a bridal section.
Caterina says it best, "It's my joy to welcome guests to the blo Out Lounge & Colour Bar. We are a group of humble, talented, caring,
and hardworking people dedicated to making a difference in the way you feel about your look. We live and work by our values of service, honesty, healing, passion, spirituality, innovation, education, loyalty, and creativity. These are our promises to you about how we conduct ourselves and treat you as our guest.
"We offer the convenience of a blo out bar, affordably luxurious cuts, colour, personal grooming, and holistic wellness services, in our full-service area. Our hair lounge is a place where you're excited to visit and can't wait to return. I realized early that, however humble it may be, I'm in the healing business. The first time I watched one of my guests raise her downcast eyes, look at herself in my mirror, and truly recognize her own perfection—that I had helped her see—I knew this was my calling."
blo out Lounge and Colour Bar has expanded over the years and a newly acquired space will expand their services in an exciting new direction in February. They will offer educational program to the public, classes that will teach everyone the techniques of hair care, skin care, and nutrition with plenty of hands-on training.
As Caterina says, "We are taking our mission to the next level. Our guests return faithfully because they trust us to get to know them and have their best at heart. Our artisans sit down and talk at length with everyone to learn their wants and wishes."
But there is more. Feel like throwing a party? The artisans can host a range of fun and memorable events at the lounge or can bring them to your location.
Experience the luxury of being special and learn more about yourself and style at the blo Out Lounge and Colour Bar soon.