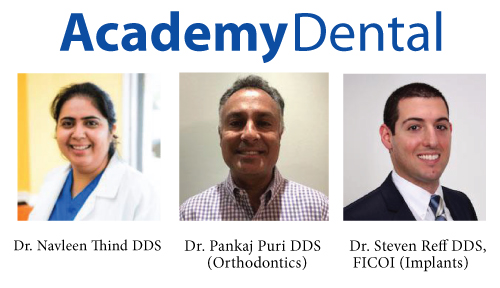 Quality Care with a Trusted Local Team: Academy Dental
Thinking of a premier dental practice in Mercer County often brings references to the team of Dr. Navleen Kaur Thind, DDS. Dr. Thind is a renowned dental expert in the community and is trusted by families for all of their dental needs. Based in Hamilton, Dr. Thind has expanded her team and now offers a one-stop-shop for all dental work, seven days a week. Her team includes Dr. Pankaj Puri (Orthodontics), Dr. Steven Reff (Implants and Surgeries), Dr. Gunjan Parmar, Dr. Prachi Shah, Dr. Bhargavi Gogineni, Dr. Roshanjit Kaur and Dr. Avani Patel.
Dr. Thind is a Mercer County resident and treats her patients like family. She says, "My patients are my strongest support along with my team, and everyone is a large family to me." As part of her commitment to the community she regularly participates in events, including the distribution of more than 7,000 kids' oral care kits to Mercer County families in 2018.
"Building Academy Dental was a dream that started in late 2015 to facilitate easy access for my patients in Hamilton, Robbinsville, Lawrenceville and Trenton. It is so satisfying to see my patients enjoy this ultra-modern facility. Their comfort is what drives the smiles on everyone's faces," reflects Dr. Thind.
Dr. Thind and her team also volunteer to help many in need of care. They consistently hear about how a dental visit is an inconvenient, sometimes expensive and often ignored health choice. Their team believes in long-lasting relationships and seeks to help patients achieve their dream smile. They participate with most dental insurances and discount coverage offerings. A simple call or visit can help open the door to great and friendly care.
Their welcoming facility is staged with calming music and waterfalls. Dr. Thind says the atmosphere has helped relax many patients who avoided going to a dentist out of fear. They believe in pain-free and gentle dentistry and are open late evenings and weekends to fit your schedule. They are offering new patients exams, x-rays and cleaning for only $59. Dr. Puri is offering comprehensive orthodontic treatment to new patients for only $4,495, a $1,500 discount. Call 609-403-0710 or visit www.AcademyDentalNJ.com to make an appointment.
Complete Dentistry for the Whole Family
609-454-6500
731 Route 33, Hamilton • AcademyDentalNJ.com